About our Company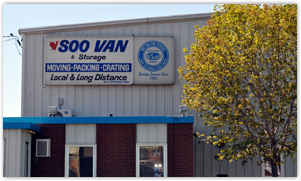 Our Headquarters
165 Industrial Park Crescent
Since 1956, SOO VAN has been moving Canadian families and corporate transferees. We meet the challenge of every new move with over 5 decades of experience, the newest technologies and a team of dedicated experts.

Since 1956, we have been committed to being our customers' mover of choice for many years to come. We pledge to keep our process highly competitive, giving our customers a reliable mover to refer back to for their future relocation needs.

We are totally committed to your needs and satisfaction. We want to replace the burden of relocation with the prosperity that comes with smooth move!
The SOO VAN Difference
Standard services that make SOO VAN different from other movers include:
Professional, uniformed movers are assigned to all household moves
Guaranteed delivery dates and times
Stretch wrapping or padding of sofas and chairs to prevent soiling
Clean floor runners will be used on all flooring
Pads to protect staircases and walls
Provide all proper moving vans and specialized equipment
Service Strategies
Every customer's move has unique needs and requirements. Our process is designed to treat each relocation individually, by properly assessing the move requirements before the move process begins, and then to recommend the service strategies and alternatives available to your family or business.
Price Structure
We sincerely believe a company's success should not achieved by over charging their customers. Instead, growth should be encouraged by working hard, investing in the right equipment and hiring trained moving professionals.

Our price structure is the most rewarding feature of our services. We strive for our prices to be as competitive and appealing as possible without compromising quality or attention to detail.